Gabri
We hope you enjoy your visit here. Please join or login if you have joined before.
Random content
231 Downloads
Added February 21st 2013
Abilon è un "news aggregator" gratuito, consente di sottoscrivere, aggiornare ed organizzare feeds RSS 0.91, RSS 1.0, RSS 2.0, ATOM 0.3.




È possibile salvare (oppure caricare) una lista di RSS sottoscritti in un file OPML anche se in molti preferirebbero una semplicissima funzione di drag and drop. I feed possono essere organizzati in una struttura ad albero: grazie a dei filtri in entrata è possibile decidere da subito cosa scaricare e cosa non scari…
Last post: September 21st 2021, 1:50 PM
Last post: July 6th 2021, 12:40 PM
Last post: March 18th 2021, 12:40 PM
Last post: September 11th 2022, 7:50 AM
Last post: March 10th 2022, 3:44 PM
Last post: March 10th 2022, 3:31 PM
Active topics in Cucina
There are currently no topics in this forum
Active topics in Mobile
There are currently no topics in this forum
Top 3 Downloads
6,234 Downloads
Added February 23rd 2013
SeqDownload è un programma gratuito in inglese, utile per salvare le immagini provenienti da fonti come le webcam, come quelle che si trovano nelle località turistiche e non solo.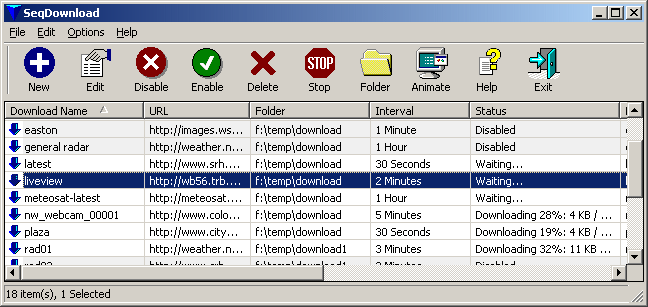 SeqDownload effettua automaticamente il salvataggio delle immagini inviate dalle fonti, permettendo di impostare tempi di salvataggio diversi per ogni fonte.
2,820 Downloads
Added March 9th 2013
LibreOffice è una suite per la produttività, completa e professionale, che si può scaricare e installare gratuitamente.





E' disponibile in più di trenta lingue e per tutti i principali sistemi operativi, inclusi Microsoft Windows, Mac OS X e Linux (Debian, Ubuntu, Fedora, Mandriva, Suise, …). E' possibile scaricare e installare LibreOffice liberamente, senza timore di violazione del copyright.

L'interfaccia è semplice da usare e personalizzabile. Gli…
2,499 Downloads
Added April 2nd 2017
Composr è l'unico CMS open source che integra completamente tante funzioni in modo coerente e professionale, anche se non correlato ad una visione predefinita.




Molte delle caratteristiche che ci si aspetta dai siti web dinamici, sono inclusi di serie in Composr, al contrario di addons improvvisati di terze parti (come molti altri CMS fanno). Questo significa che tutte le caratteristiche funzionano regolarmente all'avvio. Ha anche alcuni incredibili s…