Gabri
We hope you enjoy your visit here. Please join or login if you have joined before.
Random content
87 Downloads
Added April 4th 2013
Lphant 3.51 è una soluzione completa per trovare, scaricare e condividere qualsiasi tipo di file.



E' un client peer to peer multiprotocollo, può connettersi simultaneamente con le reti BitTorrent, Kademlia e eDonkey(usata da emule), da cui può scaricare contemporaneamente parti dello stesso file.

Per funzionare correttamente serve installare .NET Framework v2.0 per i sistemi Windows e Mono per i sistemi GNU/Linux e MacOS.

L'ultima versione original…
Last post: April 7th 2019, 9:31 AM
Last post: February 18th 2019, 1:35 PM
Last post: February 15th 2019, 6:13 PM
Last post: January 27th 2019, 8:54 AM
Last post: January 17th 2017, 11:35 AM
Last post: January 15th 2017, 3:54 PM
News
Aggiornamento versione 2019.43c del 15 Aprile 2019

Registrazione fatture elettroniche d'acquisto:

Vengono importate anche le...
La ritenuta Enasarco viene ora...
Risolto problema di importazione...

Corretti problemi minori...
Dettagli aggiornamento funzioni
Danea Easyfatt è un software commerciale di fatturazione, preventivazione, gestione magazzino, vendite,…
Read more 0 comments
Older news
April 10th 2019, 8:37 PM
Composr
0
comments
Top 3 Downloads
2,054 Downloads
Added February 20th 2013
Samsung registrazione PVR: agirare "il dispositivo non ha superato il test delle prestazioni" con "Samsung USB Adjuster"

Samsung USB Adjuster è un utility per windows gratuita, che permette alle pendrive usb che non hanno superato il test delle prestazioni per la registrazione sui tv Samsung, di essere usate comunque evitando di fare o superare il test delle prestazioni.




Scaricate Samsung USB Adjuster ed estraete l'eseguibile.

Inserite la pendrive…
1,680 Downloads
Added February 23rd 2013
SeqDownload è un programma gratuito in inglese, utile per salvare le immagini provenienti da fonti come le webcam, come quelle che si trovano nelle località turistiche e non solo.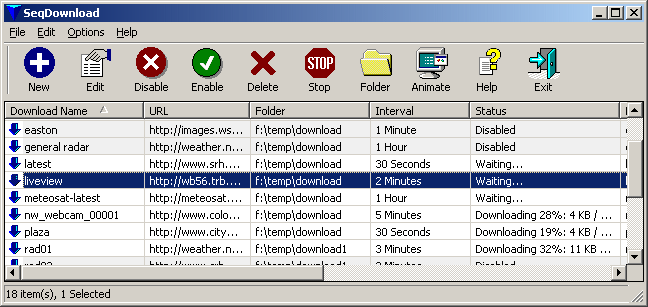 SeqDownload effettua automaticamente il salvataggio delle immagini inviate dalle fonti, permettendo di impostare tempi di salvataggio diversi per ogni fonte.
962 Downloads

Added February 19th 2013
John's Background Switcher è un ottimo programma gratuito e multilingue, che cambia gli sfondi del desktop, ad intervalli regolari, in varie modalità, prelevando gli stessi, dal computer, dalla rete e dalle webcam meteo, turistiche....




Dopo l'installazione, al primo avvio, per rendere JBS subito operativo, si può optare per un'aggiunta di default, di alcuni gruppi delle relative fonti con qualche link, da cui prelevare le immagini.