Avira
Site director
Antivirus
Avira Free Antivirus è gratuito, elimina molte forme di malware, virus, worm, trojan, rootkit e molto altro ancora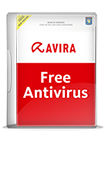 Real-Time Protection
Mantiene pulito il PC, bloccando virus, worms, trojan, rootkit e molto altro ancora.
Browser Tracking Blocker
Protezione assoluta dalle compagnie che cercano di monitorare le attività sul web. Incluso in Avira Toolbar.
AntiAd/Spyware
Blocca qualsiasi tentativo di spionaggio e si sbarazza di fastidiosi adware.
Website Safety Advisor
Valuta la sicurezza dei siti che hai trovato nei risultati delle tue ricerche. Incluso in Avira Toolbar.

Site director
E' disponibile Avira Free Antivirus, versione 1.2.132.16752

1 guest and 0 members have just viewed this.